200.64
Divy Mobile

Markerboard with Felt

Divy Mobile is a writeable surface, an acoustic partition, and a tack wall in a single, lightweight, movable package. Available with casters or sliders.
Create your Signature
Divy Mobile Markerboard with Felt
What you get

One 36.375" x 72.188" (924 mm x 1834 mm) Birch frame mobile Divy partition with a markerboard and Sola Felt panel.

Material Choices

Sola Felt

Design Choice

— Sola Felt color
— Sola Felt pattern
— Caster or sliders

Product Features

— NRC rating of .75 (Alpha W .70H)
— Carries a Class A fire rating (US only)
— One 36.375" x 72.188" (924mm x 1834mm) Divy panel is the smallest unit.
— Easy to assemble
— Available in 14 standard Sola Felt colors
— Signal White Gloss standard hardware finish
— Varia with Writeable finish for use as a markerboard

Lead Time

Two weeks (not including transit time)
Explore the functionality of these mobile partitions and add on the go design to your space.
Change Geometry


with 6 Pattern Options
A grouping of closely fitting geometric shapes make up the six pattern options available in the Divy collection. From subtle to complex, there's a pattern for every space.
Plane

Margin

Vim

Net

Quint
Choose Color


Create Comfort

Made using our PET technology and 50% post-consumer recycled material, Sola Felt is available in 14 colors.

Sola Felt
Product details
Features and Hardware
Dimensions

36" x 76.65" (915 mm) x (1947 mm)

Easy Assembly

Simply attach casters or sliders

Easy to Move

Choose casters or sliders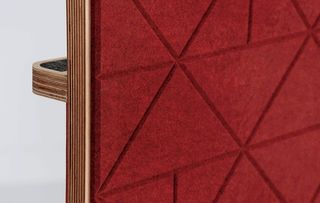 In the picture
Divy Mobile
Partition
Material  |  Sola Felt
Color  |  Jasper
Pattern  |  Quint

Download Image
Turn Down Sound
Explore Divy Products
Customize this collection of partitions and baffles with your choice of color and pattern.
Learn more
Other Products you might like